By Imogen Wethered, CEO & Co-Founder at Qudini
In the past year, the coronavirus pandemic forced the majority of retailers to close up shop and forced consumers to investigate different ways to get their hands on new products or access services.
As a result, digital adoption rates amongst consumers have skyrocketed, especially amongst older consumers, prompting consulting firm McKinsey to say, "we have covered a decade in days in our adoption of digital."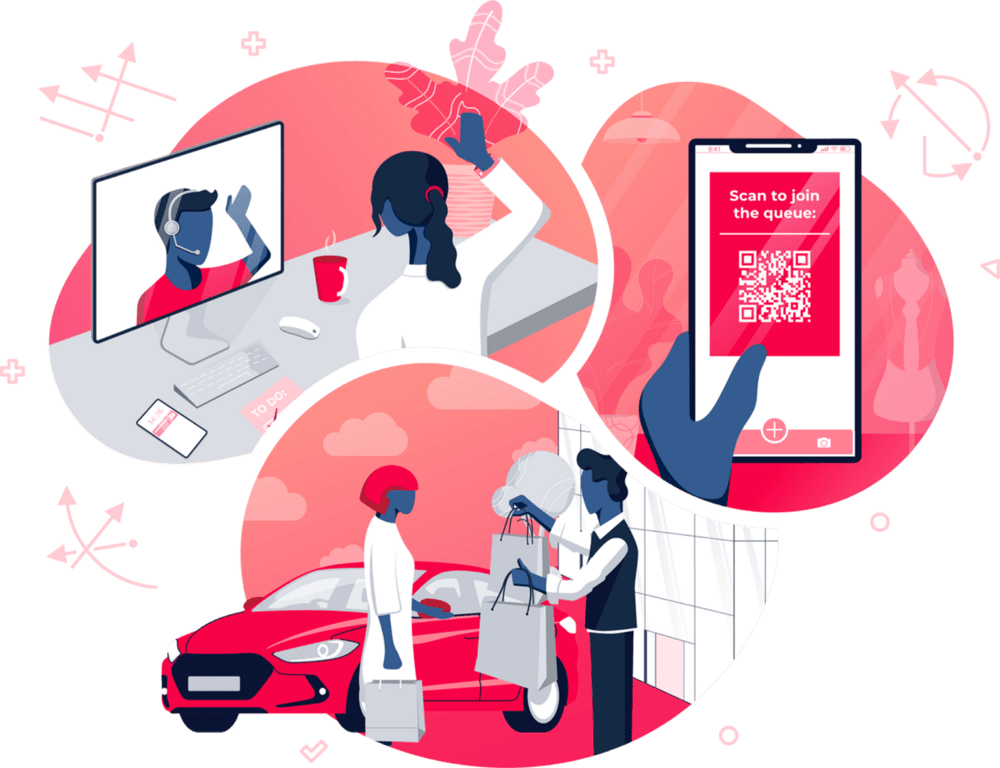 We've seen the majority of retailers step up and show the world what they're made of, demonstrating a great deal of innovation and agility along the way.
While a number of new digital and in-store consumer trends have emerged in the retail space throughout this tumultuous period, here are three that will only continue to escalate in the years to come:
1. Booking systems will continue to power in-store shopping experiences
In today's Covid-centric retail environment, creating safe and engaging customer experiences is vital. An enormous global survey of 25,000+ consumers conducted by Adyen, a payment platform, revealed that 64% of consumers wouldn't return to a retailer if they've had a bad experience either in-store or online.
Last year we saw a sharp rise in the number of retailers using appointment scheduling software to allow their customers to book appointments for in-store services, such as personal shopping appointments, technical support services, or even appointments to enter stores or pick up online orders.
This shift came about due to the public's reluctance to wait in long lines to enter stores or receive service.
In October 2020, a Qudini survey of 2,000 US participants found that approximately one-fifth of consumers would find in-store appointments useful, while 45% said the same about virtual appointments. We did the same survey a month earlier in the UK and found 14% of GenZ and Millennial consumers want store appointments while 11% want virtual appointments.
As many retailers have come to realize, consumers who book appointments are considerably more likely to convert, increase basket size and stay engaged with the brand — and the majority of consumers prefer the straight-forward and personalized customer journey.
2. Omnichannel communication channels will drive sales
Most consumers are now omnichannel, and they prefer it — research has shown that as many as 9 out of 10 customers prefer omnichannel shopping experience.
And Covid-19 has only intensified this demand. According to Adyen's survey, in-store customers spend 41% more when they move online during the pandemic.
As a result, brands are doing more to engage consumers in interactive ways, such as live video sharing and one-on-one video appointments. According to Shopify, customers are up to 85% more likely to buy a product when they've watched a video about it.
As the Qudini survey revealed, demand for virtual appointments is high in both the US and the UK, but almost half of US consumers say virtual service would be useful across all retail types.
Luxury retailer, Burberry, allows its customers to receive styling advice from its team of in-house experts. Customers visiting the website can book an appointment with a style consultant by selecting a time-slot that suits them. This omnichannel experience is an excellent example of ways that retailers can increase customer engagement and boost online and in-store sales.
Retailers and consumers alike will continue to rely on these omnichannel experiences in the years ahead.
3. Local, conscious and sustainable shopping will become widespread
With Covid causing the majority of consumers to work from home, and with many brands forced to close stores during the lockdown period, consumers have become increasingly aware of how they spend their money, who they buy from and how it impacts their local economy.
As a result, there has been a huge rise in the number of consumers choosing to shop locally with brands and businesses that they trust — and local shopping, sustainability and social responsibility have taken on even greater importance.
According to Adyen, 51% of consumers will go out of their way to shop with businesses that engage with charitable initiatives during the pandemic. Shopify found 50% of consumers are willing to pay more for environmentally friendly products.
While retailers have enough on their plate right now, many have switched onto this consumer shift in behavior and have fast-tracked their sustainability efforts (or continued to go full steam ahead with existing initiatives).
Many brands, particularly those in the luxury sector, have been clever in their approach to keeping consumers engaged in physical store environments. During the summer they followed their US-based customers out to the Hamptons and launched engaging pop-up stores, while others followed their EMEA customers to Provence.
Going forward, we will see this demand for sustainable and localized shopping continue in the post-pandemic retail world.
Qudini is a WEVE alumni company that provides appointment scheduling software and virtual queuing software to enterprise retail brands such as Burberry, Nike, Samsung, Montblanc and Pandora. For more information about how Qudini can help create powerful customer experiences and drive sales across your online and in-store environments, visit qudini.com