By Chris Timmons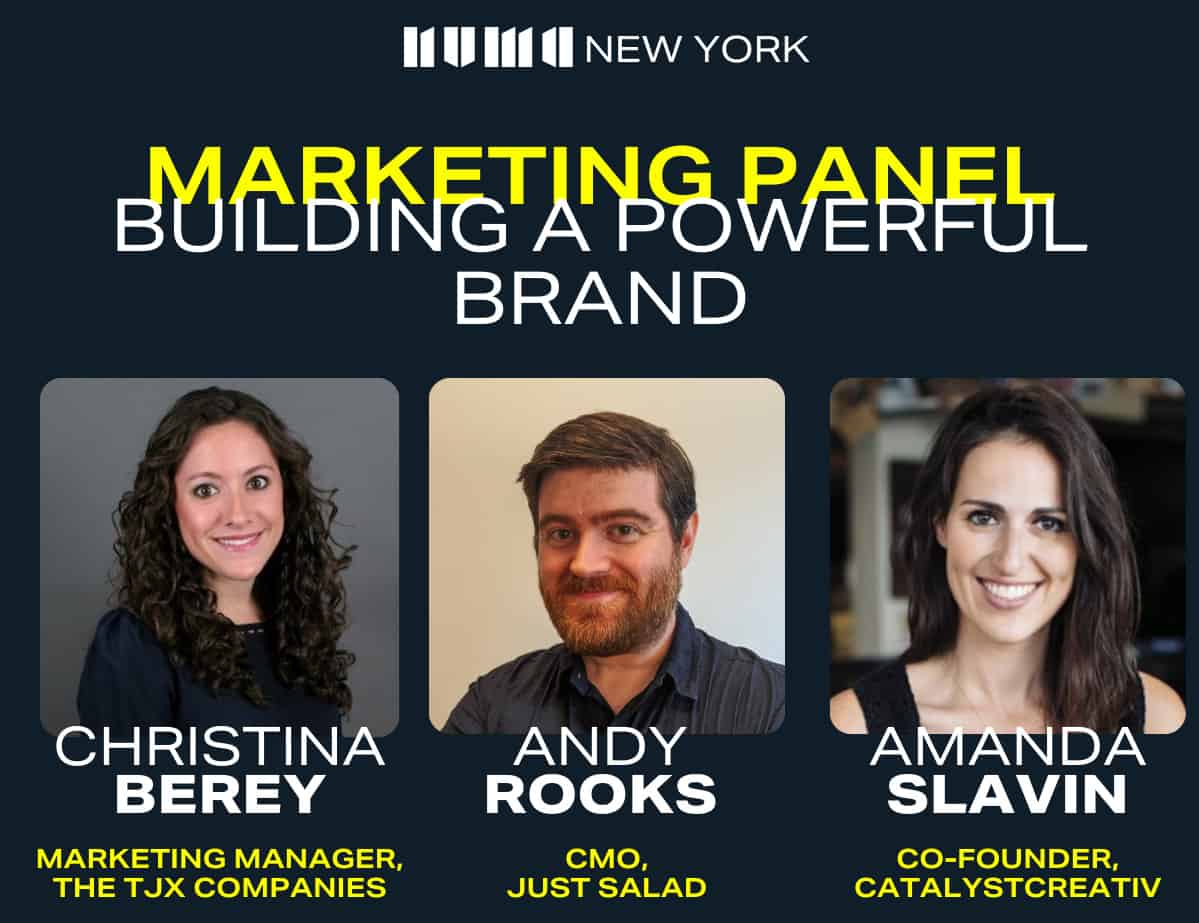 Everyone wants to build the next great brand. But what actually goes into making a brand great? Is it a slogan so simple it's brilliant ("It's Toasted")? How about a catchy jingle you can't seem to knock loose from your inner ear? Maybe a sleek and sexy logo?
Of course, there is no single right answer. Building a powerful brand can't be done in a lone fellswoop. It's a process that takes years of building trust, knowing your audience, delivering a good product or service, and above all, being true to yourself.
Fortunately for our startups, it's not a process that has to be tackled alone. Last Wednesday, we had the great privilege of being joined by a team of three first-class marketing experts for a panel discussion around building a strong, sustainable, and memorable brand.
Like all WEVE sessions, the workshop began with the radiant smile of our ever-enthusiastic Program Director, Shai Tamary. As our startups filtered into the virtual conference room, she introduced each of the mentors that were to wow the cohort companies with their insights, passion, and warmth (pausing briefly to compliment a founder on his dapper new haircut). After her quick introductions, each of our panelists stepped up to elucidate a bit further on their backgrounds.
Our Masters of Marketing
The first of our panelist trio to introduce themselves was Christina Berey. Working for global retailer The TJX Companies for most of her career, Christina has been involved in everything from building a new brand (the superbly successful Homesense line of stores, for instance) to national TJX campaigns in numerous markets.
Next up was WEVE veteran and Chief Marketing Officer at Just Salad, Andy Rooks. In addition to managing the retail and digital brand experiences across 40 Just Salad locations in the US, and launching the first restaurant carbon footprint label program in the world, Andy is an active advisor and an adjunct at NYU where he teaches digital marketing and strategy. Prior to his work at Just Salad, Andy founded Theory Marketing Partners, a consulting firm that advises startups on brand positioning, consumer research, and go to market strategies. Andy also served in research and strategy roles at NY-based ad agencies 360i, helping brands like Ben & Jerry's, MetLife, and Budweiser to organize their global integrated marketing practices.
Our third panelist, Amanda Slavin, is chairperson and co-founder of CatalystCreativ, an award-winning community design agency specializing in audience engagement. Using the Seventh Level Engagement Framework — a proprietary methodology adapted from Amanda's thesis work while earning her Master's degree in Curriculum and Instruction at NEAG School of Education — Amanda has helped enhance engagement for brands like Google, The Nature Conservancy, Zappos, HubSpot, and Coca Cola over the past 15 years. As a mentee of the late great Tony Hsieh, she carries on his mentality of leaving a tenacious impression. (Amanda earned some brownie points with our Costa Rican startups having just visited and stayed in the country for 3 months recently!)
What do you need to know about building a powerful brand?
Now that you've met our panelists, let's discuss the most important takeaways you should, well, take away.
Be clear, be focused
Without missing a beat, Shai brought us into the first question of the day: "If you were going to launch a new brand today, what would you do first?" What better way to provoke some serious thinking than putting the experts in the shoes of the startups.
"Target audience," began Christina Berey, succinctly yet pragmatically. She spoke about how important it is to know exactly who you have your sights set on, to know who you are talking to. As the old adage goes, "You can't please everyone all of the time." It's true, you shouldn't be trying to promote your brand where it's not relevant. Know exactly who you're focusing on and shape your brand around their needs and tastes.
To find your brand positioning, Amanda Slavin recommended our startups take a spectrum of extremes, map out all of their competitors, then find exactly where they sit on the barometer in order to carve out their niche. Just remember your 3 C's — Company, Customer, Competition.
And don't be afraid to ask your customers questions. They're with you for a reason, so find out exactly what that is and leverage it as you move forward. Feedback from your clients can help you determine how you're connecting with your audience, what is working well, and what needs to be improved. When you speak with them, don't simply ask them "Do you like this?" You're only going to receive constructive criticism. Ask, instead, "What does this make you think of?" If the person can say back to you what you've tried to convey to them, you've got your brand validation.
Be authentic
At the start of the pandemic, everyone and their mother had their inbox flooded with shallow outreach campaigns from companies assuring them they knew how difficult a time it was and that it was important to stick together (also here's a 10% off coupon, come spend your stimulus check). Frankly, it was insulting. How many of those companies actually backed up their words with actions?
Building a powerful brand means being true to who you are, it means being genuine. Christina fully supported this, saying, "Put actions behind the words you preach. If you say you're gonna do it, do it." People want a brand that isn't afraid to put a stake in the ground and stand up for what they believe in. Amanda echoed the sentiment, recalling how some executives made promises they couldn't keep. Yet when faced with the backlash, they stood up, apologized, and made amends to right their wrongs.
Speaking of authenticity, don't be afraid to lean into vulnerability. Show the world that you're a human organization, that you aren't some faceless monolith of a corporation. When you do mess up, show them that you sincerely apologize, and you're going to make things right through actions. With that said, try to avoid making those mistakes in the first place by sticking to your guns when you make a promise.
Find your differentiator
"In a sea of sameness, what makes you stand out in the hearts and minds of your customers?" Andy is right. The market you're entering is filled with thousands upon thousands of companies, each of them vying for as much of the average person's already short attention span as possible. You need to find what makes you unique. When in doubt, let your mission be your North Star.
At Just Salad, their mission isn't some cobbled together jumble of what they think will sell; it's a dedicated effort to promote healthy lifestyles by offering fresh good-for-you products, it's a commitment to a better world with reusable bowls (a feat of ingenuity that won an award from the EPA for saving so much waste). And they make it well known. Anyone who frequents Just Salad knows exactly what their money is going towards.
One issue that many brands face is an obsession with trying to sell a solution. "You're not selling a drill, you're selling a hole in the wall." explained Andy. There are hundreds of new solutions invented everyday, but few unique new problems. Speak to the problem that you can solve.
Know the culture
When expanding to a new market, you're going to be hit with some serious culture shock. Those shrewd marketing tricks that worked like a charm back home may falter and fold when you try them in a different country. Take the time to learn the new culture and apply this knowledge to your brand positioning.
If you're going to move into the US market, make sure you understand the American consumer. Our panelists offered these helpful tips to our audience of six different nationalities:
Be concise. You need to grab the consumer's attention from the get-go and deliver your message in 10 words or less. Americans are not well-known for long attention spans and digesting paragraphs of information. We want to know what something does before the Hot Pocket finishes microwaving.
Convenience is everything. Amazon has set the bar with two-day shipping (or is it 2 hours now?) and instant gratification for numerous products. People want to know how your product or service is going to make their life easier.
Make it about them. Self-identity and individualism are massive social norms in the United States. Your customer here wants to know exactly what value you're providing them, and why they should look to you and not to one of your competitors.
Now, go build your brand
There you have it, words of wisdom from some of the top minds in marketing. As you build your brand and with it, your company's brand, keep these suggestions in your thoughts. It's not an easy process, but you wouldn't be striving for greatness if it was.