By Kyle LaBossiere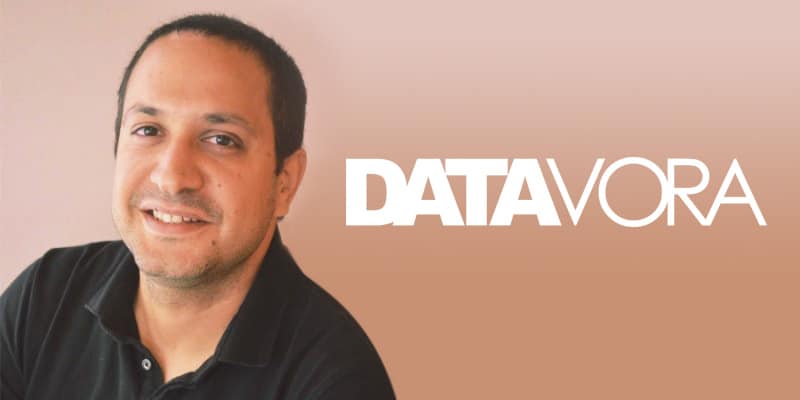 Oussama Messaud is the Co-founder and Chief Sales Officer of Datavora, a Tunisian-based tech startup that optimizes pricing strategies for smaller retailers to increase their revenue and boost growth. Oussama was a member of WEVE Acceleration's 8th soft-landing acceleration cohort, and in this interview, he sat down with us to share his story and tell us where he's heading next. 
Could you tell us a bit about your entrepreneurial journey?
I am a serial entrepreneur. I always knew that I was going to start my own business. My entrepreneurial journey began in 2005 after I spent a year in New York City participating in a US-Tunisia student exchange program.
After returning home, I founded a web agency with a friend and built websites for businesses worldwide. Soon after, we decided to establish a training company together. After running those for a bit, I launched a medical distribution company with my wife, and we represented companies from Europe and markets near Tunisia.
In 2015, I met Hedi Zaher, who would later become my co-founder at Datavora. It turns out that we attended the same university at the same exact time, but never crossed paths. Hedi identified a massive opportunity to develop a solution in web data. The inception of Datavora took a year, and in 2016 we raised some money and officially founded the company.
What is Datavora?
Datavora is a price intelligence & competitive monitoring solution for e-commerce businesses.
Our mission is to provide smaller retailers with access to market data and technology that usually is only available to tech giants.
For example, Amazon has developed AI technology to monitor and study their competitors' pricing, and using this intelligence, they can price (and re-price) their products to generate the highest possible margin. Smaller retailers don't have those kinds of resources, so it's our mission to help them be more resilient and competitive in a world of giants.
What inspired you to found Datavora?
It took a lot of discussion and deliberation between me and my co-founder, but ultimately we identified an opportunity in the market to apply our solution. E-commerce produces a lot of data, and online retailers have many products with constantly changing prices. It seemed like an area that was ready for a product like ours, so we acted on it.
Why did you decide to join the WEVE program?
In 2017, I attended the CES Tech Exposition in Las Vegas, and on my way back to Tunisia, I stopped in NYC for some meetings. I was looking for US market discovery and validation. Just six months later, we signed our first customer in the US. It was a great learning experience because we realized how incredibly different doing business in the US was in comparison to Tunisia and Europe. Shortly afterward, we landed our second US customer and we knew that if we are going to enter the US market more seriously, we need to find the right partner. We went through the selection process at WEVE, and by February 2020, we were in New York City and ready to start the accelerator program!
What were the biggest challenges for you, as an international founder, with US market entry?
One of the most challenging obstacles we faced was building trust. It was hard to establish a repertoire with potential US clients because we're from a small country in Africa that people in the US typically don't know much about. Some people don't even know where Tunisia is! Working in different time zones while managing a team in Tunisia was also a big adjustment.
Also, the procurement process, meeting with legal teams and getting all of the legal framework ready for the US market was pretty challenging. It took much longer than we initially thought to close our first deal because of all the complicated paperwork. And then, of course, there were cultural differences that we needed to navigate. First, we had to understand how US clients think in order to gain their trust and build a rapport with them before pushing any deals forward.
How did WEVE help you overcome those challenges?
At the core of WEVE's program is a network of experienced entrepreneurs and mentors that know the market well, and that's crucial. The legal partners and the immigration consultants were a huge help. WEVE Acceleration is like a one-stop shop for all of your questions about US expansion— and they have all the correct answers. WEVE made everything very accessible for us. They made the process as quick and easy as it could ever be. Having a completely custom-made program tailored to your needs made a huge difference. Unlike other US accelerators, at WEVE it's not a one-size-fits-all situation. 
In terms of understanding the market, WEVE's network of mentors helped us immensely with market discovery, figuring out what demographic we should be targeting, and how to customize our message to hit that demographic. All of these things saved us time and energy, and we were able to avoid a lot of the common pitfalls international businesses make when entering the US market by being put in front of all the right people.
What were some of the highlights for you?
Now, that's an easy question!
Definitely the Cohort Kickoff event! We all had to prepare a two-minute pitch to present in front of a crowd of WEVE alumni, mentors, investors, and partners. It was so much fun, and you could really feel the energy in the room. It felt like the first real launch of the program, and we all came together as one and bonded. We felt like a team. I can still remember everyone yelling and laughing in the room. I'm glad this was something we got to do as a cohort before the pandemic hit and forced us all to go our separate ways.
What have you been up to since WEVE?
2020 was a big transitional year for us because of the pandemic. We took this time to take our product to the next level, and we've really evolved as a company this past year. We're ready to re-accelerate our growth now. We have the same great team and an even stronger message.
We weren't initially looking at the Tunisian market because it's quite small, but due to COVID-19, we've had more time to focus on the local region. We've seen rapid growth in e-commerce here, so it actually turned into an interesting opportunity. We now have a strong presence in the French, Italian, and Spanish markets, and we want to keep developing our growth in the European market. And, of course, we want to refocus on the US market. It's the biggest market in terms of e-commerce, and even though the pandemic slowed our growth in North America, we can't wait to re-engage moving forward!
What advice would you give to businesses that want to scale into the US market now?
It's so important to look for a solid partner. It will end up saving you so much time and energy. With the right partner, you'll get things done more efficiently and give you a lot of feedback. Find someone that compliments you in areas that you may not be knowledgeable about.
It's also necessary to identify your objectives when you come to the US. For us, we wanted to focus on sales and US investors. That's how we knew that WEVE Acceleration was the right partner for us. 
WEVE Acceleration helped Ousamma and Datavora navigate the confusion and chaos that international startups face as they're first scaling into the US Market. If you, or somebody that you know, are interested in learning more about our soft-landing accelerator program, reach out to our Program Manager, Lea Goor, at [email protected].