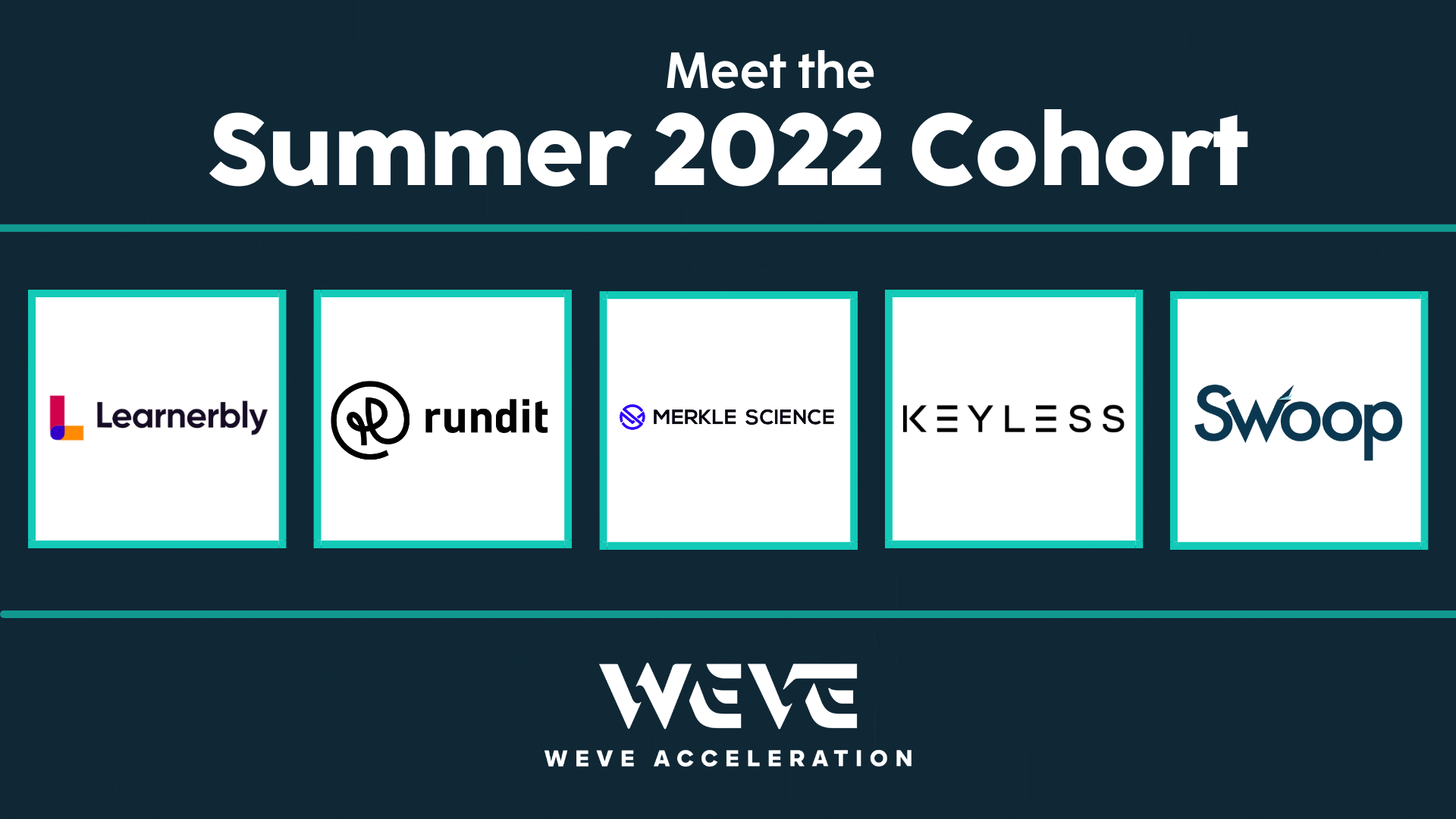 We are excited to announce our Summer 2022 Cohort – with five international startups from the UK, Finland, and Singapore with us for our 10-week program. The cohort companies were carefully selected from a pool of over 300 applicants by the WEVE Team and our Selection Committee judges. We wish each startup the best of luck and success throughout this journey, and can't wait to see what the future has in store for them!
Learnerbly
Company Website: https://www.learnerbly.com/
Location: London, England
Industry: E-Learning Providers
Fundraising: $15M Capital Raised to Date
In one sentence: We work with organizations to create a progressive learning culture that empowers their people to own their development, guides them towards the best learning opportunities, and supports them in applying their learnings.
A bit more: We help businesses to empower their people to own their learning and development, democratize access through offering learning stipends, and subsequently see industry-leading engagement as a result. We provide a curated marketplace with 250+ of the best learning providers for employees to spend their learning stipends with. It's tailored to what they want to learn and more importantly, how they like to learn. Our approach gives the user the ability to make the best choice and have the greatest impact.
Swoop
Company Website: https://swoopfunding.com/
Location: London, England
Industry: Financial Services
Fundraising: $14M Capital Raised to Date
In one sentence: Since launching in 2018, we've helped thousands of small business owners secure over $400 million in funding across loans, equity and grants.
A bit more: Small businesses traditionally get the worst rates – but now they no longer live in a world where they have a 1:1 relationship with their business bank manager, as banks move away from having a physical and personal approach to business banking for SMBs. However, there are more funding options than ever before, so as a time-poor SMB that isn't financially literate, it is harder than ever to stay on top of access to finance. This is where Swoop steps in to take the hassle out of funding and help them with their access to finance needs.
Keyless
Company Website: https://keyless.io/
Location: London, England
Industry: IT Services and IT Consulting
Fundraising: $9.2M Capital Raised to Date
In one sentence: Keyless provides a secure, privacy-first, intuitive and consistent authentication experience for employees and consumers, while reducing risk and exceeding regulatory compliance for organizations.
A bit more: Our mission at Keyless is to provide people and organizations with a passwordless future, where the user is the key. We want to do it in a way that lets people login to any app or service, from any device, easily and safely in the knowledge that they have the privacy they deserve, and for organizations to maintain security and compliance for their systems and users.
Rundit
Company Website: https://rundit.com/
Location: Helsinki, Southern Finland
Industry: Software Development
Fundraising: €2.6M Capital Raised to Date
In one sentence: Rundit helps businesses manage their venture investments with ease. We are an all-in-one tool for VCs and Private Equity firms.
A bit more: Rundit is a global platform for portfolio management and startup investor reporting. Businesses can get regular investment reports, monitor their portfolio companies and get visual overviews of their investment performance in real time. We support businesses in automating the manual tasks for GPs and portfolio companies – less time on data means more time for strategic decisions.
Merkle Science
Company Website: https://www.merklescience.com/
Location: Singapore
Industry: Software Development
Fundraising: $8M Raised to Date
In one sentence: Founded in 2018, Merkle Science is the next generation predictive cryptocurrency risk and intelligence platform that helps crypto companies, financial institutions, and government entities detect, investigate, and prevent illegal activities involving cryptocurrencies.
A bit more: Merkle Science's proprietary Behavioral Rule Engine enables our tools to go beyond blacklists so that compliance teams may fulfill their local KYC/AML obligations and industry players may stay keep pace with the industry's increasingly complex illicit activities. Merkle Science envisions a world powered by crypto and is creating the infrastructure necessary to ensure the safe and healthy growth of the cryptocurrency industry as it becomes a key pillar of the $22 trillion financial services ecosystem. We enable businesses to scale and mature so that a full range of individuals, entities, and services may transact with crypto safely.